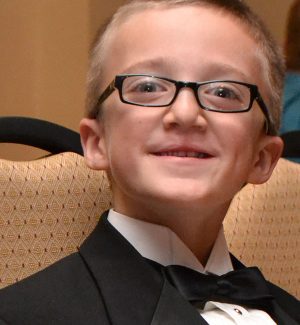 Connor & Kelly's Story 2011 – This story is in Kelly's words from Connor's birth in 2006 – 2011

I have been surrounded by Shriners my entire life—my teachers and coaches in High School were Shriners (namely John Birkett and Daryl Graves). My grandfather, Harvey Miller was a Shriner. My great grandmothers were Daughters of the Nile and one had the honor of being a Past Worthy Matron. My best friends grandfather, Chuck Lee was a Shriner.
"Your child has a slight cleft" the doctor said to me with a look of comfort and assurance. As I looked at my mom in the delivery room…in a very frightened voice I asked… "What's a cleft? … What's he talking about mom? …Is he going to be ok?" Once the doctor put Connor on my chest my eyes honed in on this adorably cute, perfectly round and deep dimple on Connor's left cheek. My mom and I said simultanously- "Connor has ONE dimple". From that point forward the focus shifted from the adorably cute dimple to the cleft lip, cleft palate, cleft esophogus, and cleft gumline. The circus of nurses that bombarded our two day stay was meant to be helpful and a teaching moment for all the staff. For most nurses, Connor was their first "cleft baby". But the multitude became exhausting to me. As I continued to hear about my cleft baby in room1203 I soon became overwhelmed by what was ahead of us. Being a teacher I know that Connor isn't a "cleft baby" but rather he's "Connor who happens to have been lucky enough to have a cleft".

This video shows Connor (from Birth in 2006 to current 2011) and his family
I used to not pay much attention to the word "lucky" until I attended our district staff meeting the first day of this school year. Our Assistant Superintendent of schools, Kathy Countryman, shared a motivational story to get us "inspired and motivated for the year" She talked a lot about looking at challenges we face within the school system not as hopeless situations, but rather,as an opportunities. She also asked each of us to consider how lucky we are to live in a wonderful community like Sycamore. She asked us each to take a moment and think about what else in our lives we are lucky to be a part of. I started to think about my life. I was thinking about how much I love my Sycamore community. I also love what Shriners does for my family and many others in Sycamore. Kathy continued to tell us the story of why a horseshoe is considered lucky and made many comparisons and analogies of the horseshoe, luck, and our wonderful city of Sycamore.
Throughout her speech all I could think about was Connor… Shriners…and my community. What I took away from that day was more than motivation for our first day of school. Basketball, running, and my mother taught me how to work hard, always persevere, and to be an optimist. Sports also brought forth the world of superstitions. Let's talk about the superstition of a lucky horseshoe. Think of the horseshoe. It is believed that if the horseshoe is hung over a doorway, ends up, it will catch good luck. Ends down, on the other hand, will let the good luck spill over the door. Horseshoes were also considered lucky because they were made by blacksmiths, which is thought to be a very lucky trade. Because blacksmiths worked with fire and a magical iron, they were thought to have special powers. It was believed that a blacksmith could heal the sick.
When Connor was born, someone turned a horseshoe upside down in that delivery room and gave our family a little unforeseen luck. Granted, it took some time to feel like luck was poured on our family. But each time one of you, a Shriner, finds and sponsors a family, you are emptying that horseshoe of luck onto that family. The amazing hospitals, staffs, nurses, and doctors that are working magic on the shrine children are the blacksmiths. Currently, I have my horseshoe pointing up, collecting luck and waiting for that family that needs to feel lucky, the family that needs help turning a challenge into luck and opportunity.
Our family, and the millions of other families that have a child that recieves care from a Shriners Hosptial for Children are extremely lucky to have an organization to heal and empower Connor and children like him, from birth through adolescent life. We chose ShrinersHospitalfor Children Chicago over the two most prestigious children's hospitals in the midwest specifically because of the cleft clinic,and Mary O'Gara. The efforts…time… money … and caring hearts heal in a much deeper way than any can realize. The hospitals are inclusive and accepting of everyone. Together, the surgeons, nurses, thearapists make the Shriners Hospitals for Children a unique hospital that embracesand heals any child in need, regardless of race, ethnicity, or financial circumstances. The clinic in Chicago is a place that empowers my family. You walk into a hospital that is filled with child sized chairs and ottomons, kids artwork, friendly faces. You will even find an indoor basketball court and soccer net. Pianos, pin ball machines, video games, and TVs with DVDs are lined up around the edge of the court. The outside playground is comparable to something you woud see on TV. Simply amazing. If Connor gets a chance to play outside it's very hard to convince him we need to leave. Going to Shriners every 6 months is a reminder to all of us about how to be selfless, how to turn challenges into opportunities, and how to love unconditionally. There is NO other organization that I have ever been a part of that offers those three lessons in a genuine, natural, child and family centered environment in addition to providing excellent medical treatment. That is why our family is LUCKY to have Connor be a "Shrine Child".
I have always wanted to give back to the community of Sycamore because it has been such a wonderful place to live. With the help of my family we have had four very successful golf tournaments, The Shriners Scramble. To date, 2011 we have raised $72,000.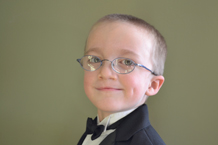 –Kelly & Connor