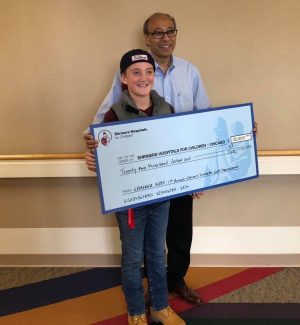 Reflections of 2017…We had an extremely successful  2017 Shriners Scramble, even though our original date of July 21, 2017 was rained out.  We re-scheduled for September 1, 2017 and still had a complete field of thirty-six foursomes! With the help of golfers, sponsors, donated raffle basket and silent auction items, friends and the Sycamore community, $16,000 was gifted to Shriners Hospitals for Children-Chicago. The highlight of this year's event was at the post golf dinner where our guest speaker was 16 year old Alec Cabacungan. Alec is a patient at the Chicago Hospital and a National Ambassador for the twenty-two hospitals.  He is a dynamic speaker.  You would recognize Alec from TV commercials and sports interviews across the country.
Connor started 2017 on the basketball court finding his love for the game!  He also participated in the 2017 Sycamore Orchesis show "A Decade of Dance".  Connor said good-bye to North Grove Elementary School and prepared to move on to the Middle School in the fall. Connor and his siblings, Jack & Peyton played Spring Soccer with all three of them on the same team! Together they helped to bring home a championship trophy. Summer found Connor sharing his time between the golf course and swimming.  Fall was the start of sixth grade at Sycamore Middle School and has earned straight A's to date.
Connor was free of surgery during 2017, a welcome relief for him! Currently dental and orthodontics are the main focus. He spends quite a bit of time in the dental and orthodontist chairs with no end in sight. Doctors are currently working on his bite, jaw alignment, and structure of his mouth from the cleft.
Connor is back on the basketball court and also practicing baseball preparing for upcoming season.  And once again participating in 2018 Orchesis presentation in March. Also March found Connor practicing with his travel baseball team, Northern Illinois Zurdox, preparing for a busy summer schedule of games and tournaments. He some how found time for swimming and time on the golf course.
I think his favorite visit to the hospital is presenting a check from the Shriners Scramble.  Connor has met some incredible children at the hospital and these children have enriched Connor's life like no other experience!
Connor continues to be helpful and protective of anyone with a special need.  He truly lives by "Love to the Rescue".
A testament that these hospitals treat more than medical conditions…they treat the mind, body and "heart" as well!
Sincerely, Kelly & Connor